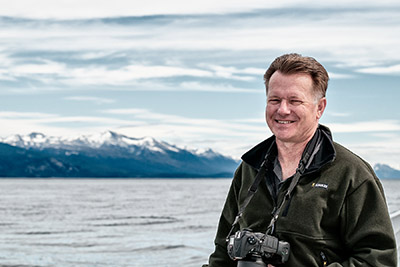 I am an addicted part-time photographer having grown up with a father who enjoyed photography. As a boy it was all home processed and printed Black and White which I continued into my years at Medical School in Cape Town. Some competition success and photography of dramatic performances earned enough to keep me in paper and film (along with the support of my father). An old rangefinder Zeiss Ikon was replaced with an Olympus OM10 which was joined by an OM4 and OM2n once I qualified when a regular income allowed me to add colour transparency to my film stock.
In the late 1980's a working holiday to New Zealand resulted in a complete change in life and a change to Nikon gear with an F90 and Fuji Velvia. I began to focus mainly on Nature and Landscape images and in the early 90's my wife, Angela, and I both had images published in a number of calendars.
The next major life change was with the arrival of our 2 children which left little time for the contemplation required for good photography. As a child who grew up as the subject of a camera I recognise the appreciating value of images as time passes. Both children enjoy looking through albums of their lives to date and the value will only increase with time.
Digital capture was the next change and currently my images are captured with a Nikon D3s, D810, D500 or Fuji XT-1, X100s. My focus remains Nature and Landscape images with my passion being birds, especially high key images of birds on a white background as can be seen in my Birds on White Gallery.
In late 2008 I was appointed as a moderator on the Avian forum of birdphotographers.net , an online photography education site, a role I have had to since step back from due to my medical work commitments. Sport photography is another interest and photography of stage productions still gives me a lot of enjoyment. Recently I have enjoyed using a Fuji X100 and X100s for candid and street photography
I am fortunate that my daughter, Edin, shares my nature photography interest and we share precious time together in the field. She has developed into a very accomplished photographer, being named the New Zealand Geographic Young Photographer of the Year 2014 and the Sigma D-Photo Amateur Photographer of the Year 2014. With her encouragement I have entered a few competitions and in 2016 we both placed in the D-photo competition and were both finalists in the New Zealand Geographic Photographer of the Year 2016. Edin scored a Highly Commended for a Wildlife image and I was Runner-up in the Landscape category. In 2017 I was again a finalist in the New Zealand Geographic Photogrpaher of the Year. Thanks also to Edin for the attached portrait taken in the Beagle Channel during our Antarctica adventure in January/February 2015. To see more of her work and her photography, natural history and conservation blog visit her at www.edinz.com
In my professional life as a small rural town Family Physician I often have to focus on matters of pain, uncertainty and fear. Photography helps me focus out beyond that and appreciate my place in the greatness of it all. It can not be said better than Thoreau did when he wrote "in wildness is the preservation of the world". With luck we will be able to save ourselves by saving Nature of which we are an intrinsic part.
I hope you enjoy my images.